| | | |
| --- | --- | --- |
| | Cold Fire® is a new environmentally friendly, fire suppressing agent, leading the way in fire suppressing technology and revolutionizing the way firefighters combat fires. | |
| | Cold Fire® gets its name from its extraordinary ability to remove extreme heat from any object (metal, wood, rubber, etc.) with which it comes in contact. The suppressants in Cold Fire® are encapsulators that use water as a catalyst to remove heat and fuel from a fire more rapidly. Cold Fire® extinguishes on contact, prevents re-ignition when properly applied, and absorbs hydrocarbon smoke. The unique encapsulation characteristic also helps to minimize possible ignition of flammable liquids. | |
| | Cold Fire's unique plant based formulation is considered to be 10 times more penetrable than water alone. This extraordinary characteristic enables Cold Fire® to penetrate a heated surface and/or fuel source 10 times faster than water. Once the product has penetrated the surface, Cold Fire® works to encapsulate the heat and fuel source. By encapsulating the fuel source, Cold Fire® simultaneously encapsulates the fuels vapors preventing re ignition. As Cold Fire® penetrates the surface it safely cools the area under its flash point without steam conversion. | |
Cooling Effectiveness of COLD FIRE®
How Does it Work?
Cold Fire® is mixed with water to fight fires. Mixed at given percentages depending on the type of combustibles involved, Cold Fire® becomes 6 times thinner than water (see official UL testing results). This unique characteristic enables Cold Fire® to fully penetrate the fuel source and attack the heat on contact, cooling down the surface almost immediately. Cold Fire® also acts like a magnet to pull the heat out from the fuel source. Water alone cannot penetrate the fuel source as effectively, so as a result when water hits the fuel source it actually bounces back and turns to steam.
Similarly, Cold Fire® also acts like a magnet when it comes to reducing hydrocarbons in the smoke. Cold Fire® actually attracts and draws in the smoke; thereby encapsulating it and breaking down the hydrocarbon molecules, resulting in better visibility.
Dilution Rate table
We have taken the liberty further explain our dilution rates separately, just to show you how beneficial ColdFire can be.
The reason dilution rates are ranged between different figures is because the fires may contain additional substances such as chemicals or highly flammable liquids. In order for you to fully understand the advantages of ColdFire we have included a table of dilution rates below:
Application

Percent Cold FireConcentrate to Water (%)

FOREST FIRES

General use

1 - 3

Grass

0.5 - 1

Brush

0.5 - 1

High Oil Content (Palmetto)

2 - 3

Sawdust / Slash

2 - 3

OTHER FIRES

Vehicles

3 - 6

Paints / Oils

3 - 6

Auto Fuels

6 - 10

Class D Storage (powdered metals)

6 - 10

Homes

6 - 10

Class A

1 - 3

Class B

3 - 6

Class D

6 - 10

PROTECTIVE MEASURES (Forest proximity)

Wood Structures / Buildings

4 - 6

Fuel Storage Tanks (Cool Down)

4 - 6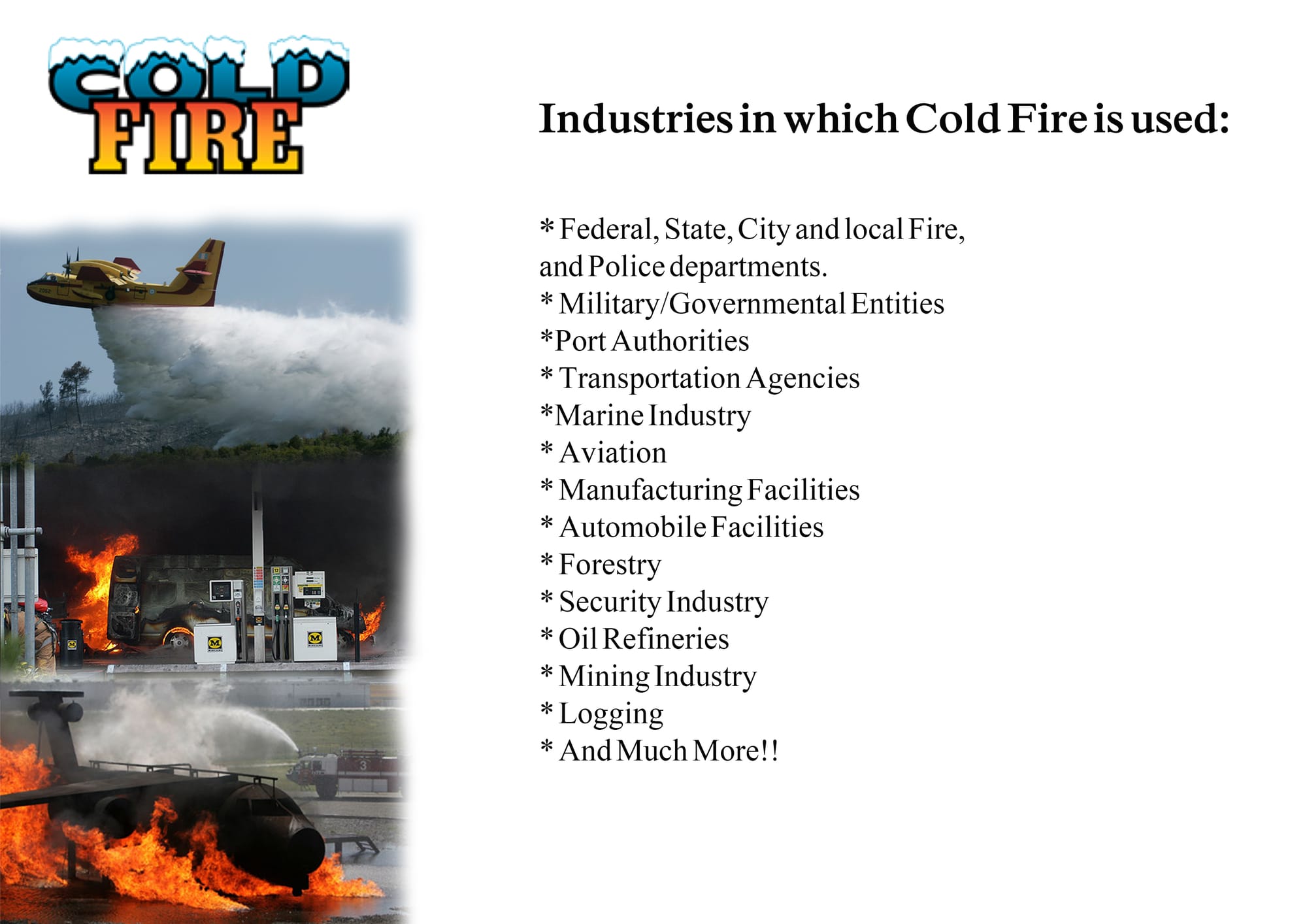 COLD FIRE® AEROSOL SPRAY CAN




Cold Fire® Aerosol Spray is a Safety Tool especially designed to extinguish flames and cool down hot surfaces rapidly. It is an excellent tool for all trade applications, which use open flame (plumbers, welders, roofers, etc.)

The Cold Fire® Aerosol Spray is a unique spray can that is solely powered by air and sprays in any direction, even upside down! It is lightweight and easy to handle.

Applications

Rapidly Cools Down Any Hot Surface in Seconds!
Extinguishes Flames
Pre-Spray Areas to Help Prevent the Possibility of Hidden Fires.
Machine and Mechanic Shops – Cools Down Metals.
Pre-Spray Sheet Metal Before Brazing – Helps Prevent Distortion.
Cool Down Hot Cooking Surfaces.
Keep Handy in Your Car, Workshop, Kitchen and Garage.
Can Easily Be Carried on a Tool Belt or in a Tool Box.




Easy To Use

Conveniently Sized Spray Can.
Easy to Store.
Quick and Easy to Use.
Leaves No Messy Residue.
Perfect for Use in Hard-to Reach Places
Sprays Upside Down!




Environmentally Safe

No Fumes or Noxious Odors!
Safe, Non-Toxic, Non-Corrosive and Biodegradable.
Non-Flammable.
Powered by Ordinary Air!
Harmless to Children and Pets!